( originally from review on the Barcza blog called: Ready for Prime Time: Savitri & Sam )
Okay, maybe the headline tells you what show I am about to watch on TV, coming home from a (hint hint) Saturday night opera.   But I really mean it, they're ready. Tonight I went to see a public presentation of portions of Savitri & Sam at the end of a week-long workshop, presented by Canadian Rep Theatre & Savitri Project Collective.
I heard 90 minutes of a much longer work: an opera.
It felt like perhaps 20 minutes as it went by.
Perhaps I should explain where I'm coming from, as my credentials may be suspect.  I am usually so positive –avoiding negative commentary—that I may seem to be incapable of anything else.
I've been listening to Louis Riel after having read a review by John Gilks on his Operaramblings blog.  I'd seen it twice very long ago, and wanted to recalibrate my sense of it.  I'd sounded off on Facebook to say that the Canadian Opera Company needs to stage this opera again.  In 1967 two operas premiered as a centennial project with the COC:
The Luck of Ginger Coffey, which I saw, starring Harry Theyard (who I mention because it's his birthday according to Charlie Handelman)
Louis Riel which I didn't see at this time (our family subscription didn't have enough tickets to permit me to see it this time…i was a child!), but I would see it in a remount a couple of years later, AND I'd see the TV version, which is the basis of the DVD I've been watching in 2013
Riel is the one that's remembered.  In places it works very well, although in some places it's wooden, a relic of a style that had once been in fashion.  It feels dated, it's most interesting elements in the libretto's treatment of a national myth, not its music.
Composer, musician, innovator, teacher John Mills-Cockell
I am quite certain that Savitri & Sam is better.  It doesn't feel derivative, even if it does remind me in places of Pelléas et Mélisande, another opera telling a story of forbidden love.  But while it's often as beautiful as Debussy it avoids the effete & precious stillness that mars that work, perhaps the least operatic opera ever written.  The score by John Mills-Cockell is often tonal, but with depths & complexities matching the ambiguities of the story.  The best operas undertake big themes, complex subject matter that can unfold within the abstraction of the music, ideally with profound symbolic undertones that aren't easily pinned down, demanding multiple articulations in different interpretations.  I feel that about S & S.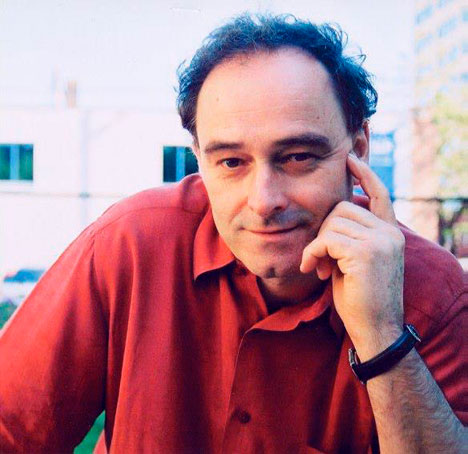 Librettist & director Ken Gass
The words of Ken Gass's libretto were almost entirely audible in the workshop, presented without any subtitles.  That's a tribute
to the elegance of Gass's lyrics, the clarity of Mills-Cockell's textures (admittedly presented in an electronic orchestration that might sound fatter with an orchestra) and the enunciation of the cast.
One of the most original features of S & S is the use of chorus.  In this tale of honour killing by the father of a Punjabi girl who had been with a Native Canadian boy, we are reminded throughout that everyone –girl, boy, father and mother—are acutely aware of their ancestors as voices in their heads.  This chorus might be the ideas from  the past that influence them, or ghosts of ancestors, or perhaps a kind of articulation of culture itself.  If that—one of the most original and exciting things I've encountered in an opera in a very long time—weren't enough, there's more.  There is also a very tonal non-verbal choral pattern heard at least a couple of times that might represent acceptance and oneness with one's culture, that we hear during a very original love duet.  Can you name even one love duet that isn't unbelievable by reason of all those words at a time when the lovers should be getting physical? this is the first one i've ever heard that takes me somewhere believable, a magical non-verbal place: because we're not listening to silly poetry.  We hear a few words of love, and ohh-ing and ahh-ing, and…even in this semi-staged reading i was hypnotized, enthralled completely.
Semi staged, partly off book, the performance featured wonderful work from Zorana Sadiq and Michael Barrett as the two young lovers, with Giles Tomkins & Marion Newman as her parents.  Gregory Oh did a remarkable job of conducting the live singers, working from a series of recordings of the orchestra parts (synthesized) & chorus.  Considering that they assembled this in a week, it's a stunning achievement.  The music is very complex in places, although I can't really tell how difficult it is to sing (for instance, how high the voices were forced to go).  Maybe the score isn't that daunting and the singers did well, or maybe the score is tough and the singers were heroic; either way they sounded wonderful.
I was at Tapestry Briefs only a few days ago, watching a series of little bits and pieces, none of which was as cogent (that is, with an inseparable relationship between the music & words) as any five minutes of this 90 minute presentation.  Is that an unfair comparison?  But seriously, the ninety minutes went by like a flash.  I got lost in the lusciousness of the sound, and (aside from liking the performers & their performances) I liked every character, including the one who ends up being a killer.
I am now impatient to see this opera staged.  I won't hold my breath for the COC, who aren't even jumping on Riel's bandwagon let alone a new work; yet this opera is as Canadian as apple pie or maple syrup.  The music is really beautiful.
Someone, ANYONE! please stage Savitri & Sam..! I need to see it and hear it.